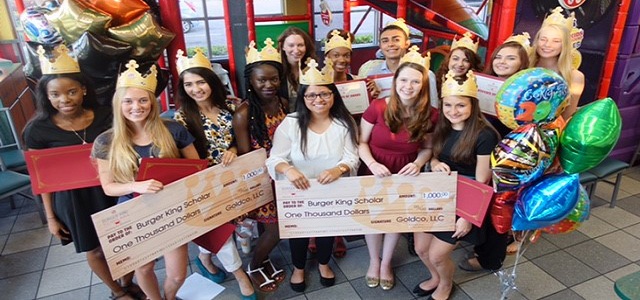 Burger King Scholarship: More than just a Restaurant
Burger King is serving more than just Whoppers! Burger King offers a great opportunity for a scholarship that will help students with post-secondary education! Read on below to find out what the program is, who is eligible, and what you need to do to receive an amazing scholarship!
The History
Burger King started a scholarship program in memory of the late James "Jim" W. McLamore, the co-founder of the famous restaurant. Mr. McLamore wanted some of his life earnings to go toward the future of both his company and others, and that is exactly what is being done by The Burger King McLamore Foundation! Since 2000, the program has given out over 32 MILLION dollars to more than 30,000 high school students! The foundation gave out 3.5 million dollars just in 2017 alone!
The program grants scholarships anywhere from $1000 to $50000 based on grade point average, extracurricular activities, community service, and work experience. The scholarships are for anyone looking to attend college, or a post-secondary technical or vocational school!
Who's Eligible?
The Burger King Scholarship is available to employees, spouses of employees, domestic partners of employees, and employee's children in the United States, Puerto Rico, and Canada in search of post-secondary education. To be considered for the award, applicants must possess integrity, entrepreneurial sprit, good citizenship, high standards, and understand the importance of education. These were the standards set by the founder of Burger King James W. McLamore, and the same standards are measured today when giving out the scholarship. It was those values that helped Mr. McLamore achieve his dreams, and those values are the core of the Burger King McLamore Foundation to this day. The scholarship is administered by Scholarship America. Of course, the award is determined without any emphasis on color, race, creed, religion, sexual orientation, age, gender, national origin, or disability.
How to Apply?
To apply for the Burger King McLamore Foundation Scholarship, all an eligible entrant needs to do is go to https://www.scholarsapply.org/burgerkingscholars/ and fill out the required paperwork. Any questions or concerns can be taken care of via email or phone. To call the Burger King Scholarship Portal, call 1-507-931-8340. You can also email them at burgerkingscholars@scholarshipamerica.com.
The opportunity for scholarships are everywhere! This is a great example of that. If you or a family member work at Burger King, this is a great way for you to obtain some financial aid that can help make your education dreams come true!